Unless you designed your kitchen from scratch, with a custom layout and cabinets, it's probably not perfect for your needs. But new cabinets can quickly eat up a small remodeling budget, and re-designing the kitchen isn't usually an option if you rent. I won't even get into the environmental impact of trashing old cabinets and producing new ones. Fortunately there are a lot of clever DIY ways to make the most of your current kitchen cabinets.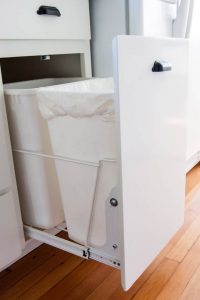 1. Pull-out Garbage and Recycling Bins
Sometimes there is no good spot for your garbage bin in your kitchen when you move in. So instead you can (if possible) install pull-out bins in a cabinet, they are a great solution. They keep your garbage bin easy to access, but out of the way. A tiny tip: If you have an extra inch or two, put a container of baking soda near the wall behind the bins to absorb odors.
To do it yourself, you'll need a to buy the pull-out slides, and a door kit if you want the door to be attached to the front of the slides.
2. Sink tip-out tray
Many older kitchens (and bathrooms) have fake drawer panels in front of the sink. There isn't room for a whole drawer because of the sink bowl, but you can often fit a tip-out tray. It's perfect for corralling sponges and scrubbers that might otherwise clutter up your counter top.
3. Vertical Pan Storage
Storing baking pans and sheets vertically versus stacking them is like the difference between filing and piling paper. They're so much easier to access when stored vertically, so if you have a lot of baking pans, we highly recommend this hack.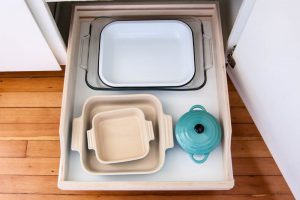 4. Pull-out Drawers
If you have low, deep shelves, getting things from the back may be difficult. You could put items only in the front, where they're easy to reach, but then you're giving up space that you may need. The best solution is pull-out drawers. If even the pre-made drawers are too much work, a tray that you can pull forward to access stuff in the back without removing everything individually can make a big difference.
5. Drawer Organisers
Drawer organisers might seem like an obvious kitchen solution, but if you have non-standard drawers or utensils, it might not be possible to buy an off-the-shelf version.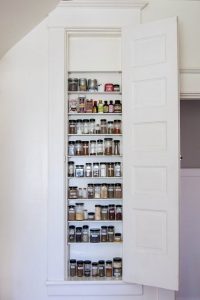 6. Custom Spice Shelves
If you cook often, you've probably accumulated a lot of different herbs and spices. Having a spice rack to organise them is a huge help, but you might not think you have the space. There are many ways to fit a spice rack in spots you might not have considered, though. There are pre-made and DIY door-mounted spice shelves you might be able to fit in your cabinets, and you can get really creative with magnetic containers and standing racks that fit in narrow niches.
7. Door-Mounted Paper Towel Holder
Having paper towels someplace handy, but not out on the counter, is the goal. This simple mounting rack can be bought at a local hardware store and be installed with just a few screws, but you can also buy over-the-door versions that don't require screws.
8. Stacking Shelves
These are a must for tall, non-movable shelves. They basically double your shelf space, and can be used for everything from plates to pans.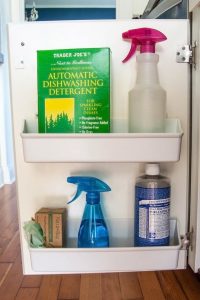 9. Door Storage Shelves
You can install these in your under-sink cabinet, but there's no reason you couldn't put door storage shelves on any cabinet. These install easily with just a few screws, but you could also build your own the way you would like it.
10. Under-Cabinet Toe-Kick Drawers
It's invisible if you don't know it's there, so it's perfect for secret storage. Larger, more practical toe-kick drawers could actually be a storage boon in a tight kitchen, and you can build them yourself.