Open shelving is one of the most popular (and also most controversial) kitchen trends of recent years. On one hand, it has a lighter look than closed upper cabinets, makes kitchenware easy to reach, and gives you a place to display all your lovely things. On the other hand, unless you happen to have beautifully matched and organised dishes, it has a tendency to look cluttered. Then of course there's dust and grime to deal with.
If you love the look of open shelving but are hesitant to give up your upper cabinets, you now have another option: open shelving on your island. It's the best of both worlds: open space to easily store pots and pans, or display pretty things, combined with closed cabinets for hiding less pretty things away.
In the kitchen above, a custom island incorporates a sink, some closed cabinets, and open shelving, which includes a wine rack. The island sits a few inches above the floor, which makes things open and airy (but also might make cleaning a bit of a pain).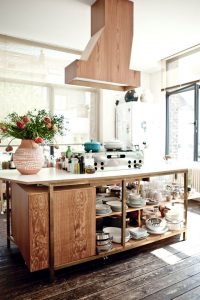 This island also incorporates closed and open storage, and looks really good doing it.
Islands like the one in this kitchen are sometimes called 'French kitchen islands'. The look is definitely lighter than that of a traditional, built-in island with traditional cabinets, which helps to open up the kitchen. At the same time, you still have all the advantages of an island: extra storage and counter space.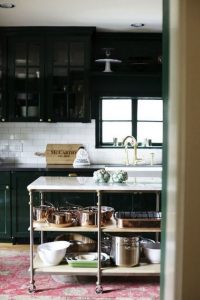 Here's another French kitchen island (maybe even the same one). The open island provides a nice contrast with the darker kitchen cabinets.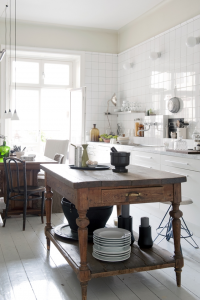 An antique farm table makes for workspace and also open shelving in this modern kitchen. Open island shelving can be a great spot for bulkier pieces that are an awkward fit in traditional cabinets.
The wood and steel island adds an elegant touch to this kitchen. The baskets help to keep dishes neatly organised.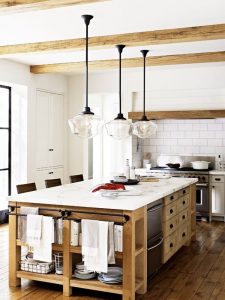 There's also the option to create an island with just a little bit of open shelving, as seen in this kitchen. In this case, the open shelves on the end of the island act as an accent (and a great spot for cookbooks), with the rest of the dishes tucked neatly away.