Once Christmas is over, all you're left with is a Tupperware full of cookies and a whole mess of decorations to put away. And in the spirit of the post-holiday season, it can be tempting to walk into a store to buy extra storage containers or grabbing your nearest refuse bag.
But you so don't need to. Save your money for something you really want, because you can scavenge some really smart Christmas decoration storage with these upcycled hack-type tips.
Store Ornaments in Egg Cartons and Cup Holders
Small, round ornaments are a perfect fit for cardboard egg containers. And while you're on your third coffee run of the day, remember to recycle a few Coffee cup holders on your next lunch break. They are perfect for storing bigger ornaments.
Store Light Strings With Coffee Cans
Cut a slit in the plastic lid of a (washed) coffee can and push through the plug end of a string of lights. Wrap the rest of the lights around the outside of the can and — tada! — no more tangles.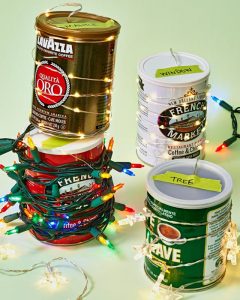 Store Wreaths on Dry Cleaner Hangers
You can bend the bottom of the wire hanger around your Christmas wreaths, then hang them up in a closet or garment rack to keep their shape. And you can even use the plastic garment bag to protect it from dust. Next year, your decorations will look like-new, and it didn't cost you a dime.